Can the horse remove the grazing pan?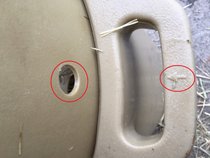 The Porta-Grazer has a clever locking system.

To remove the XL, Mini or Corner Feeder grazing pan – align the keyhole in the side of the pan with the arrow on the barrel handle.

Do not overfill. The pan has to spin easily.